MCON Wall Putty 40kg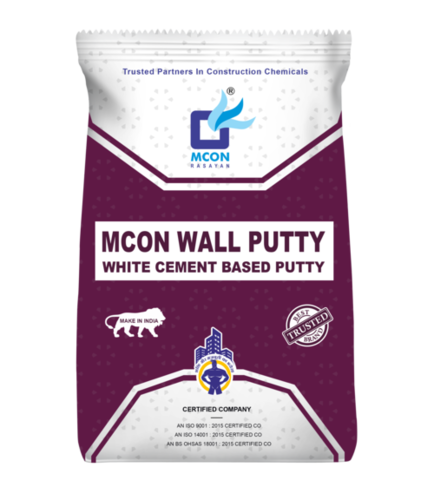 MCON Wall Putty 40kg
Product Code : 03
Price And Quantity
Minimum Order Quantity
10000 Bag
Price Range

100.00 - 650.00 INR
Product Specifications
Physical Form
Powder
Application
Industrial ,Household
Smell
Woody
Usage
Interior/Exterior
Feature
Smooth Finish,Water Resistant
Type
Wall Putty
Description
MCON WALL PUTTY is a white cement based, water resistant wall putty,
which requires precise quantity of water to make a creamy paste as an inert
material for substrate. This is especially used to seal the pinholes and the
blow holes getting exposed on concrete / plastered surfaces and to provide
smooth even surface for next coating. It can be applied on internal as well as
external surfaces. It gives better adhesion and increases the life of paints.
Areas of Application:
MCON WALL PUTTY is suitable for:
Use on both precast and concrete structures like sand cement plaster, level brick work and block work, exposed concrete.

Plywood

AC Sheets

Gypsum Boards

Can also be applied for redecoration on firm, old painted areas.
Features & Benefits
Synthetically bound ready to use compound for inert filler material.

Only precise quantity of water to be added.

Ensures use on all common types of building interiors.

Excellent adhesion & thixotropicness

Due to good bonding property it is more durable.

Excellent finishing and easy to apply

Completely applied putty will not allow water penetration.

Provides smooth, silky and featheredged finish to substrate to facilitate better texture of paint.

Application of MCON WALLPUTTY with workmanship makes exterior and interior look aesthetic. No curing is required.

Prevents growth of algae and fungi on walls.

It is in dry powder form and does not produce any kind of filth smell at the time of application.
Method of Application
Surface Preparation
Make sure that the surface is absolutely clean, dry and free from dust, grease and foreign materials.

There should be a time gap of atleast 10 days before MCON WALL PUTTY-Coarse application is done on newly plastered surfaces.

Ensure that the surface is fairly even.

If concrete surface is to be painted, it shall be washed with a water jet at 3000 psi and all loose concrete should be getting removed and all pin holes and blow holes should get opened
The Surface Above The Skirting Tiles
During attrition (Cleaning with machine) of floor and side wise, slurry is produced. Which may bond with the walls and becomes hard if not cleaned properly. Putty applied on such surface will not give good result and after some days it will peel off, so before applying putty, the particular wall should be cleaned with sand paper or wire brush and must be washed with water to avoid peeling and peeling powder and may affect adhesion property. After drying wall, wall putty can be applied, before applying wall putty, Sprinkle little water on the wall surface.
Peeling of Wall Surface
Due to rain and leakage of walls, peeling occurs. In this condition, firstly solve the leakage problem technically and then after the wall surface should be cleaned with sand paper or wire brush. After cleaning, wall must be washed with water so that if any particles are present will wash out. Let the wall surface dry, Sprinkle little water on the wall surface, then apply wall putty.
Mixing
Take a required quantity of MCON WALLPUTTY COARSE in a clean pan or bucket. Add about 35-40% of water to the putty. Stir continuously by hand or electric mixer for 15-20 minutes to obtain clump free, uniform paste. Keep the paste aside for 5-10 Minutes without disturbing, so that the polymers in it can be dissolved. Re-stir the paste again and now the putty paste is ready for application.
Prepare the paste in such a quantity, which can be used within 2 hours from mixing.
In between work, if the paste is kept undisturbed for more than 30 minutes, stir the paste again for 1-2 minutes with hand stirrer or electric stirrer
Coating Application:
Apply the prepared material with putty knife from bottom to top by ensuring complete filling of holes with putty material and featheredged finish. The coating should be about 2 to 3 mm thick
Second coat of MCON WALL PUTTY-Coarse depends up on the exposed surface after first coat (generally both coat do not exceed 5 mm) and leave the surface to dry overnight. The drying time of each coat should be 3 hours, but will vary from surface to surface.(depending upon atmospheric conditions)
Finishing: Make sure that the material has fully covered the substrate and dried. For making the surface ready for painting apply one or two coats of MCON WALL PUTTY SF.
Painting: The smooth surface finished with MCON WALL PUTTY does not require any putty or primer before paint application. Just apply any paint as per the manufacturer's standard specification. Intact painting can commence within a few hours of MCON WALL PUTTY.
MCON WALL PUTTY is available in 1kg., 5kg., 20 kg., & 40 kg.plastic lined sacks.
MCON WALL PUTTY has a coverage of 2.5 to 3 m² per kg when applied at a thickness of 1 mm - Single Coat.
SHELF LIFE
6 months in original packing if stored at room temperature i.e.25
Trade Information
Supply Ability
50000 Bag Per Day
Delivery Time
4 Days
Main Export Market(s)
Middle East, Western Europe
Main Domestic Market
All India